Listen, I'm a happily married woman. I think my husband is a stone cold fox. But that doesn't mean mama doesn't like a little eye candy now and then…ON DEMAND.
1. Honestly, I could stop here with IDRIS M'FING ELBA.I loved the Wire (Netflix, you need to step up your game and carry that series) and was quite pleased to see my boyfriend Mr. Elba on Luther. He is sooooo fancy with his accent and brooding demeanor. I want to have his babies. The show's plot and acting are stellar as well.
Dear BBC – PLEASE KEEP FILMING THIS SERIES. Forever. OK? And Netflix, don't even think about not picking it up.
2. Fine, I'll keep going because I care about you all. Charlie Hunnam. If you don't know him, you are officially dead to me.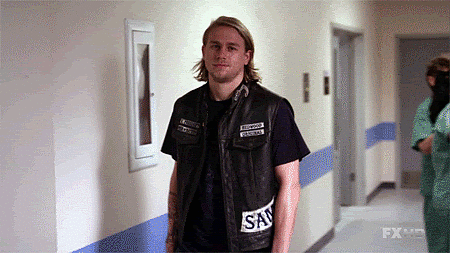 Watch all SEVEN season of Charlie, er, I mean Sons of Anarchy and enjoy. Heads up, it's pretty rough and tumble, but totally worth it for the story and badass Jax (Charlie's character)/
3. Coach Taylor makes not one but TWO appearances on Netflix. One, the obvious, Friday Night Lights, a show filled with pretty people (dare I say one of the most attractive casts ever assembled?), clear eyes, full hearts, and good acting. And two, the recently added Netflix original, Bloodline. In the latter, Kyle Chandler (aka Coach) plays a conflicted brother (and Sherriff) who has to navigate some pretty murky waters with asshole brothers and a lot of family secrets.It's a little slow at times, but I enjoyed watching the series as it twisted and turned.
Bonus: The show's been renewed folks. MEOW.
4.. Captain Hilarity, er, I mean Will Arnett tops my list of skilled actors/comedians who have my heart. It makes me so sad that he and Amy split – they were my marriage dream team. Anywhoo, I thoroughly enjoy watching him throw his comedic spray all over Netflix. Arrested Development? Four seasons with another in the works, fools.The Increasingly Poor Decisions of Todd Margaret? Yah. Mansome? Ew. And yes. This last item is a documentary with Morgan Spurlock that "examines what defines masculinity in our modern culture of male grooming products and suave celebrities." Plus a few other cameos.
5. And finally, Jesse Pinkman (IRL Aaron Paul).
That's right, friends! It's not past me to say that a meth-head turned meth cook and dealer is attractive. Watch as Paul's character evolves over all five seasons of Breaking Bad and then tell me you aren't enamored. Plus there's that whole critical acclaim thing associated with the show.
And I'm just going to say it: I think both Walters are cute too. So there.
Call me a pervo or say I'm objectifying celebrities. Whatever. Everyone listed above is a highly skilled actor and welcome in my house any day. You hear that? ANY DAY.
Click here to like Swirleytime on Facebook for quirky shares,  links and a lot of self-deprecating humor. Follow me on twitter @swirleytime.
Don't rely on fickle Facebook for updates. Subscribe to Swirleytime below for more stories of screw-ups, caregiving and weird observations. Type your email address in the box and click the "create subscription" button. My list is completely spam free, and you can opt out at any time.